Latin Name: Magnolia X soulangiana
Locations: In these troubling times, spring is more welcome than ever. It feels like a miracle. Forsythia is roaring "Yellow!" along roadsides, the opreys are back, cardinals drown out outdoor conversation with their piercing birdie birdie birdie song, and trees are leafing out and flowering. This past week, the saucer magnolias in the Heights, at the Dering Harbor Inn, and other areas of the Island have been breathtaking.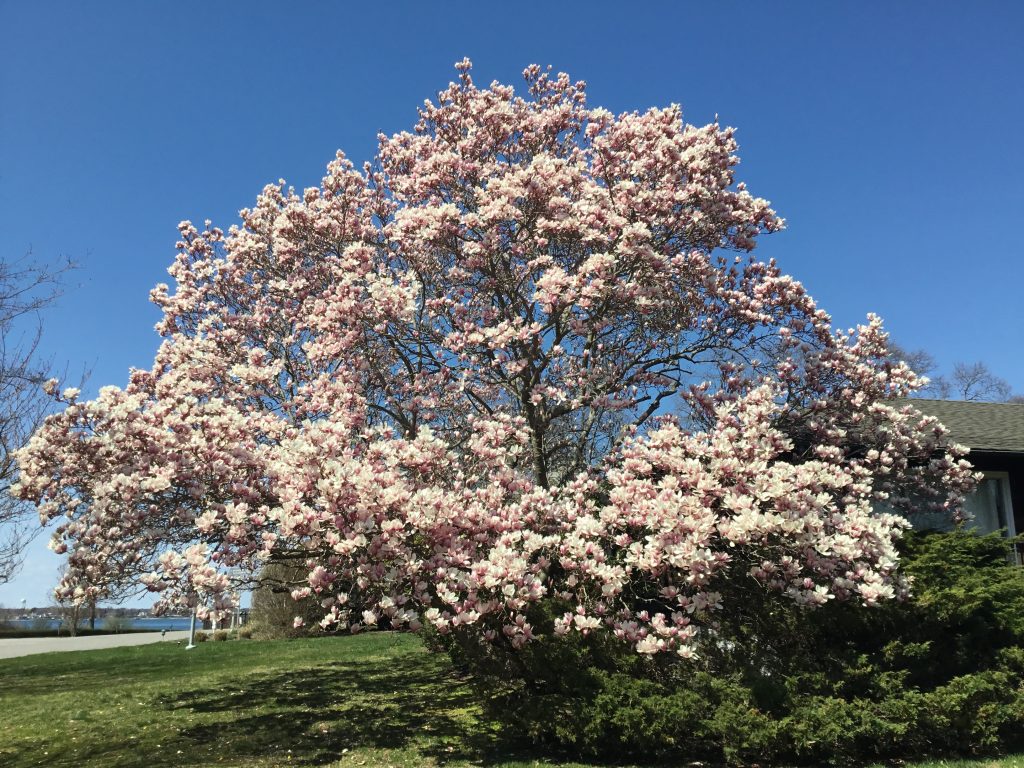 Tree stats: Saucer magnolia is a deciduous hybrid between the species M. liliiflora and M. denudata that can be grown as a shrub or a tree that reaches 30 feet high and wide.  It was created around 1820 by the French soldier-turned-horticulturist Etienne Soulange-Bodin who founded the Royal Institute of Horticulture near Paris. After word spread of this sensational new cross, the saucer magnolia arrived in England in 1827 and America by 1832. Plantsman Michael Dirr calls it "the quintessential hybrid magnolia [that's] as common as fertilizer at every garden center." Various cultivars such as 'Alexandrina', 'Brozzonii', 'Lennei Alba', and 'Verbanica' offer differences in color, flower size, and flowering time. If saucer magnolia has one drawback, it's a vulnerability to spring freezes that damage the flowers. Other early blooming magnolias include the star magnolia (Magnolia stellata).
Ancient history: Once upon a time the world was carpeted with conifers, cycads, and ferns. And then, in what Darwin called the "abominable mystery," flowering plants or angiosperms appeared and prospered. Among the first angiosperms, magnolias are members of a lineage going back 58 million years ago. Magnolia flowers are relatively primitive and, because they evolved before the existence of bees, they're pollinated by beetles attracted by their fragrance. A saucer magnolia flower is sturdy, gorgeous, and sexy.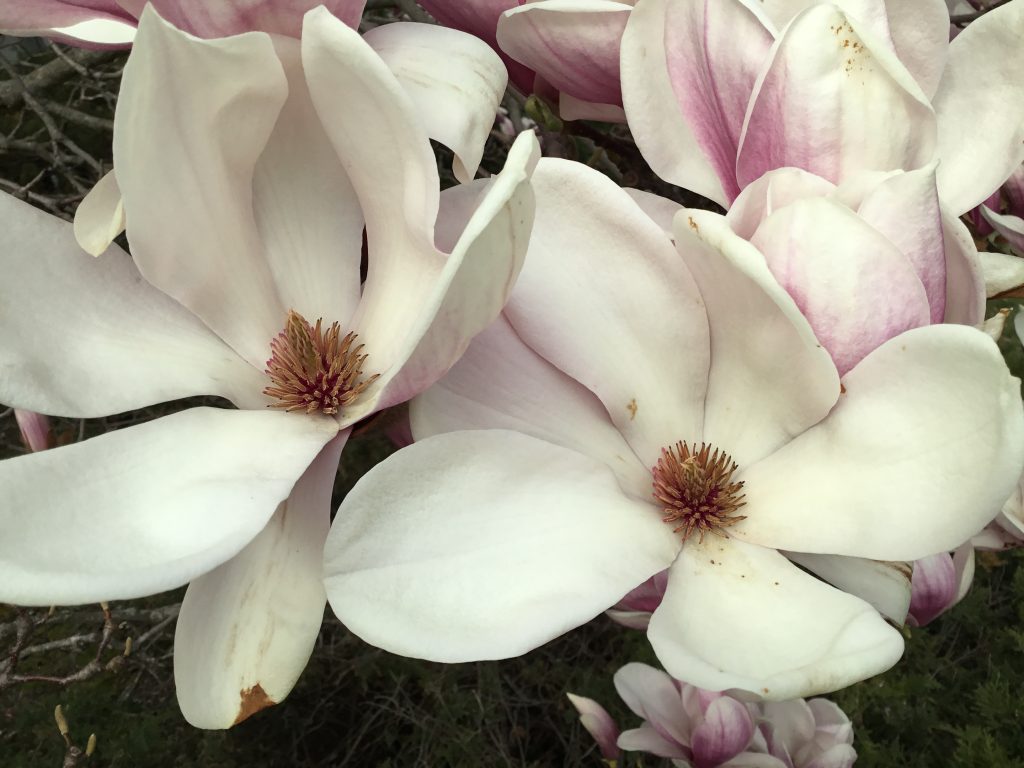 Spring break: By the time you read this, saucer magnolia flowers may be tattered or gone after recent heavy rains and wind. If you missed them, not to worry. The seasonal show is just starting. Put down your phone and take a break with friends, family, or a dog or two and enjoy spring's riches in Mashomack, the Town preserves, or your own neighborhood. And if you fancy a particular tree, give it a hug.
Photos: Tim Purtell
Related Posts