Latin Name: Pieris japonica
Locations: Japanese pieris can be found in home landscapes throughout the Island. One of my favorites is a hefty specimen that grows in the Heights near the Chequit triangle. Right now it's brimming with fragrant blossoms. Another Heights pieris achieves small-tree status, reaching the second story windows of a house on Spring Garden Avenue.
Tree stats: Japanese pieris is native to mountainous regions of Japan and China. Also known as Japanese andromeda, pieris is an evergreen shrub or small tree that can grow up to 12 feet high. It's valued in our gardens for its cold hardiness, delightful spring flowers, and deer resistance. Japanese pieris thrives in sun and partial shade in slightly acidic soil that's kept moist during hot spells.
An abundance of choices: Like many popular and long-cultivated plants, Japanese pieris is available in an array of cultivars and varieties. While the emerging leaves of most pieris have a handsome bronze color, several named cultivars ('Mountain Fire,' 'Red Mill,' and 'Scarlett O'Hara') boast dazzling shades of red and orange-red. Want floral color? 'Valley Rose,' 'Valley Valentine' and 'Dorothy Wycoff' offer pink blossoms. The aptly named 'Variegata' has variegated leaves. For those with very small gardens or yards, 'Bisbee Dwarf,' 'Pygmaea' and 'Bonsai' stay as low as 2 feet.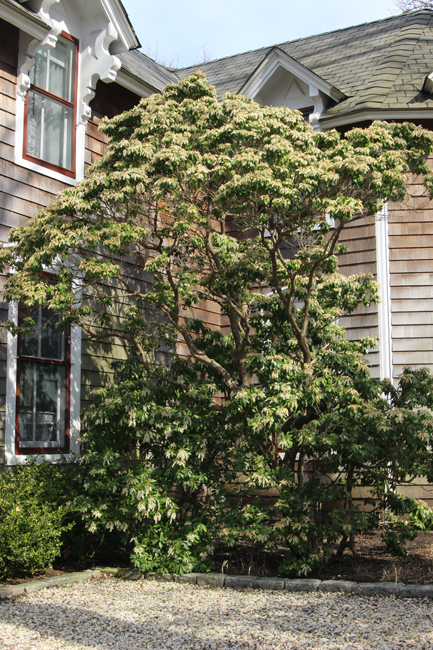 Beauty of the bark: Older, taller specimens of pieris will sometimes lose their lower branches and leaves. Instead of lopping off the top branches to force new growth, try careful trimming to properly show off the colorful and textured bark and sinuous trunks. A landscape architect friend did this with a client's grouping of plants to dramatic effect, adding ferns at the base for ground level oomph. The pieris on Spring Garden Avenue has attained a distinctive perfection with top and low growth that allows glimpses of limbs winding mysteriously in between.
Go native: Gardeners interested in American species should seek out the less available mountain pieris (Pieris floribunda), which ranges from Virginia to Georgia. Like its Japanese counterpart, mountain pieris is evergreen, has clusters of white flowers, and is apparently tougher. It's also reportedly resistant to the andromeda lace bug (Stephanitis takeyai), a pest that feeds on the undersides of the leaves, affecting the plant's appearance and health. Hybrids between the Japanese and American species ('Brouwer's Beauty,' 'Eco-Snowball' and 'Spring Snow') supposedly exhibit the best qualities of both.
Go natural: While Japanese pieris makes an excellent foundation plant, it looks even better in more natural settings as an understory shrub or tree in wooded areas intermingled with rhododendrons, azaleas, blueberry, huckleberry, and kalmia. Aside from the aesthetic appeal of such an approach, layered landscapes are attractive to birds. They'll thank you and you'll be thankful for them.
Photos: Tim Purtell
Related Posts