Latin Names: Lagerstroemia fauriei, L. indica, L. hybrids.
Locations: In July and August, the Island's crape myrtles are impossible to miss in front of homes or exploding over privet hedges and fences with their dense clusters of flashy, colorful flowers. On North Midway road, two trees adjacent to one another compete for attention with purple and red. In the Heights, you can find splendid trees ablaze with red, magenta, purple, or pink. My crape myrtle has branches heavily laden with white flowers that arch gracefully downward.
Tree stats: The Chinese and Korean crape myrtle (L. indica) arrived in Charleston in 1786 and quickly became associated with southern landscapes. However, L. Indica is not hardy in northern climates and it's prone to powdery mildew. The Japanese species, L. fauriei, was introduced to America in the 1950s and is the source for hardiness that has made it possible for crape myrtles to expand their range from the South to colder regions like Long Island. The combination of these two species has provided the backbone of our modern crape myrtles.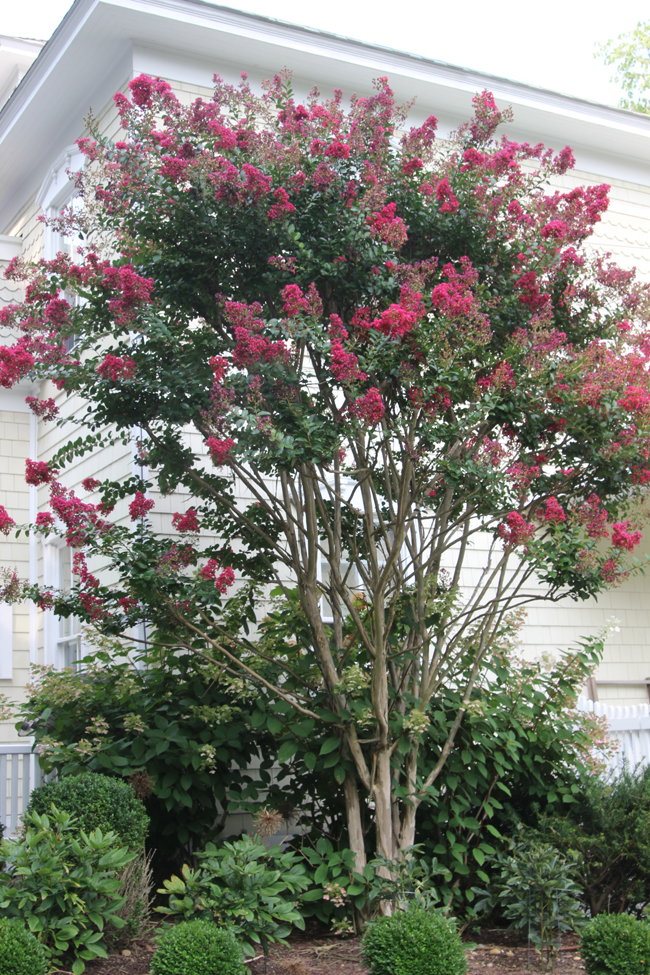 Plant magic: A number of today's hybrids and cultivars emerged from a U.S. National Arboretum breeding program in the 1960s led by Dr. Donald Egolf that produced trees which exhibit cold hardiness, vibrant colors, and mildew resistance. Given Native American names, Dr. Egolf's varieties remain landscape staples. I grow 'Natchez' for its white flowers, long season of bloom, and colorful bark. Planted five years ago, it thrives in an area that's battered by winter winds. Despite the abuse, it's never suffered dieback (knock on wood), even after severe cold snaps. Over the past five decades, breeding programs have produced crape myrtles of all sizes, including shrubs as small as three feet.
The beauty of the bark: Crape myrtle's show doesn't stop with the flowers. Some hybrids and cultivars have handsome bark inherited from L. fauriei. 'Natchez' has beige bark that peels away in the summer months, revealing a rich cinnamon-colored layer. Some homeowners floodlight these vivid trunks at night to dramatic effect. If you do, keep the light low so as not to affect neighbors.
A landscape winner: As a gardener who loves our native trees, I have only praise for crape myrtles. Because they tend to have a vase-like shape, even the taller growing varieties fit nicely in small spaces. For maximum bloom, give them full sun. Crape myrtles are mostly disease free and non-invasive, and offer a floral thrill at a time when few trees are blooming. Another bonus: their canopy can be open enough to allow underplanting. I grow a mix of perennials and annuals under mine, including a salvia that attracts hummingbirds. When the birds are sated with nectar, they rest on the myrtle branches. It makes my day all day long.
Photos: Tim Purtell
Related Posts