Latin name: Oxydendrum arboreum
Locations: A gorgeous sourwood at a home on East Thomas Street is unusual in that it's wider than tall. Two sizable trees have long thrived in the Heights—one near the tennis court at the corner of Summerfield Place and Clinton Avenue, the other at the corner of Waverly Place and Bay Avenue. A smaller one, donated by Friends of Trees in 2016 as an Arbor Day tree, stands in front of the Police Station. Another resides in the Sylvester Manor garden.
Tree stats: Sourwood's natural range extends from Pennsylvania to Indiana in the north and Georgia to Mississippi in the south. Attaining a potential height of 70 feet in the southern states, sourwood has a distinctive pyramidal shape and large, dark green leaves. It is deservedly prized for midsummer clusters of small, fragrant white flowers that look like lily-of-the-valley. In the fall the leaves turn dazzling shades of red, orange and purple. Sourwood makes a handsome, multi-season landscape tree, usually topping out at 30 feet in our region.
An unappealing moniker: According to Romeyn Beck Hough's 1907 Handbook of the Trees of the Northern States and Canada, the tree "takes its name from a slightly acidulous flavor of its leaves and branchlets, which are tonic, refrigerant and diuretic in properties." Indeed, despite (or because of) the acrid taste, Native Americans and pioneers used the leaves to treat a variety of ailments including dysentery and diarrhea. Sourwood is also called the lily-of-the-valley tree, a more market friendly name.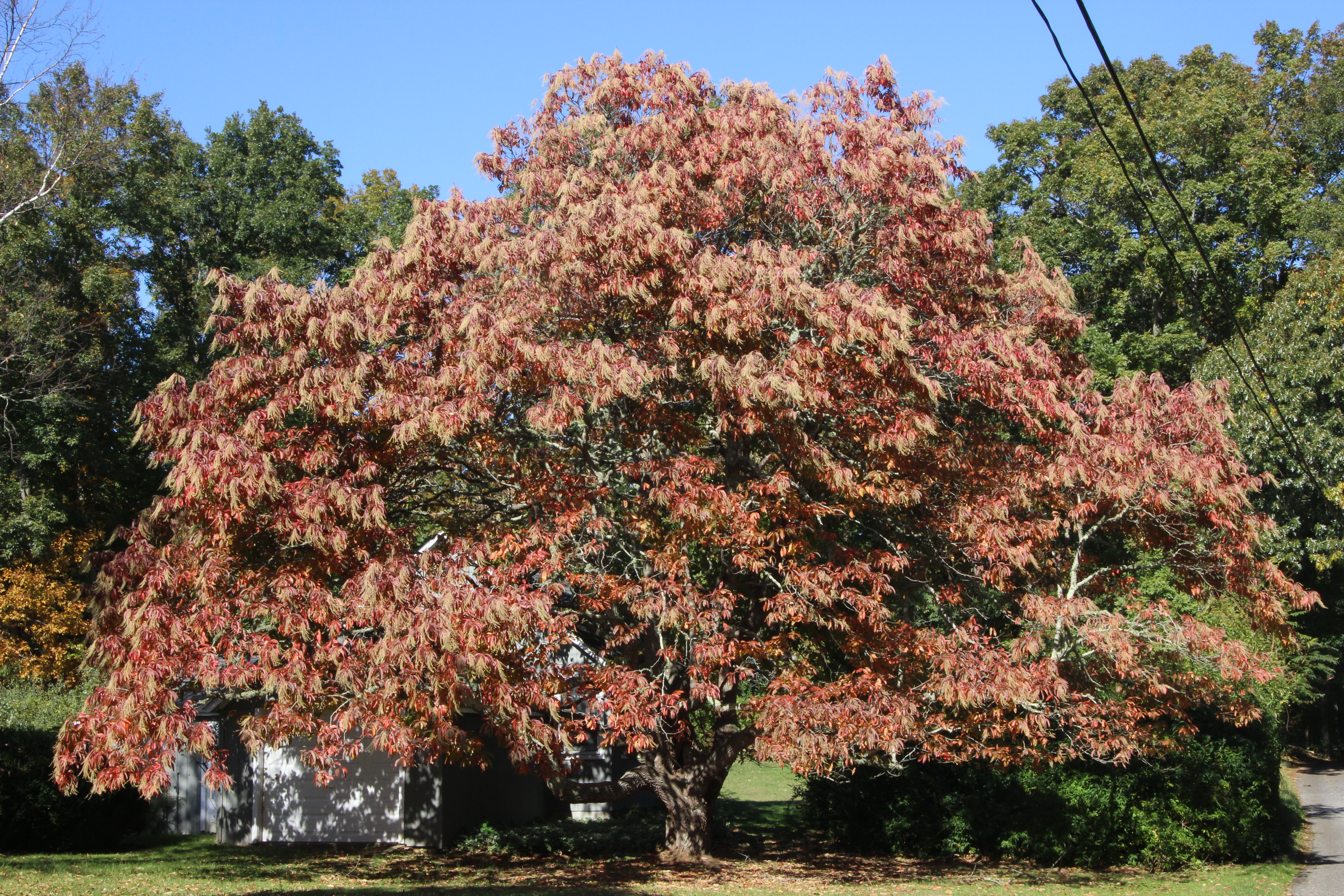 Sourwood sugar: Sourwoods are plentiful in the Appalachian states and it's there that the apparently delectable sourwood honey is produced. The tree and its honey are celebrated with an annual Sourwood Festival in Black Mountain, North Carolina.
Sourwood inspiration: The popular Appalachian song "Sourwood Mountain" begins with these delightfully goofy lyrics: "Chickens a-crowin' on Sourwood Mountain/Hey ho, diddle-um day/So many pretty girls I can't count 'em/Hey ho, diddle-um day." An online search reveals it's been recorded and performed by numerous folk singers and bluegrass groups including Woody Guthrie, Andy Griffith, and a pre-Grateful Dead Jerry Garcia. The artist Thomas Hart Benton paid homage with his popular 1938 lithograph titled "I Got a Gal on Sourwood Mountain." Not bad for a sweet tree with a sour name.
Photos: Tim Purtell
Related Posts