Latin name: Magnolia magniflora
Location: Uncommon on Shelter Island, a 20-foot-tall southern magnolia thrives next to the entrance of Our Lady of the Isle Church. Planted in 1997, it has withstood winter winds, snow and ice, and extreme cold snaps. Despite these harsh conditions, the tree is putting out healthy new growth and is currently in bloom with large, creamy white flowers that give off a wonderful, heady fragrance.
Tree stats: Southern magnolia's native range stretches from North Carolina to Florida and west to Texas. The pollinated flowers turn into a pod-like fruit that exposes bright red seeds which are consumed and spread by squirrels, turkeys, and opossum. Even out of bloom, this evergreen tree attracts attention with distinctive stiff leaves that are shiny on top and fuzzy and brown underneath. According to plant guru Michael A. Dirr, there are 150 named cultivars and varieties. Some are relatively dwarf to fit smaller yards. Others, like 'Edith Bogue' and 'Bracken's Brown Beauty', possess cold hardiness, making them good choices for the northeast.
No room? Try espalier: My neighbor, Kathy Zarchin, has successfully grown an espaliered southern magnolia on the southwest side of her house. Every summer it's loaded with buds and blooms.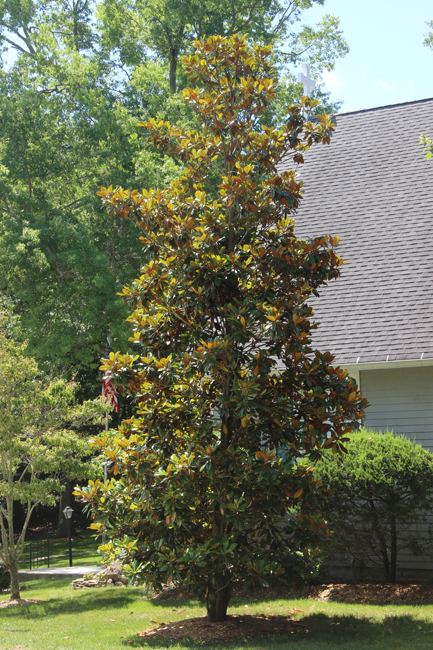 Andrew Jackson's Magnolia: In the 1830s, President Jackson planted a seedling southern magnolia on the south lawn of the White House in memory of his wife, Rachel. The iconic tree was pictured on the back of the $20 bill from 1928 to 1998. Former First Lady Michelle Obama donated a seedling from the magnolia to a Department of Agriculture community garden in 2009. Although much of Jackon's tree was removed in 2017 due to its unstable condition, offshoots are being cultivated for future planting.
Magnolia gold: The American painter Martin Johnson Heade (1819-1904) is revered for his landscapes and seascapes. He also painted a small number of exquisite still lifes of southern magnolia flowers. One fortunate fellow happened to aquire one of these rare paintings for "next to nothing," and for years he used it to cover a hole in a wall. It was only when he was playing the game Masterpiece, which depicted a similar Heade painting, that he suspected he may have more than "nothing." He sold the painting to Houston's Museum of Fine Arts for $1.25 million. Around the same time, another Heade magnolia still life, purchased at a yard sale for $29, sold for $882,500. Another, bought for $100, sold for $937,500. Who knows what treasure awaits us at Island yard sales or the Goody Pile?
Photos: Tim Purtell
Related Posts