Latin name: Ilex opaca
Locations: American Holly thrives throughout the Island. One of my favorite specimens grows at the edge of the Union Chapel grounds on Wesley Avenue. Other large hollies can be seen from Route 114 on the right as you approach the South Ferry. Smaller ones grow wild in the Sylvester Manor woods near the IGA and on the Manor grounds. They're also found along various trails in Mashomack's woods.
Tree stats: The native, evergreen American holly occurs naturally from Massachusetts to northern Florida and west to Arkansas and Louisiana. It can grow to 50' high and 40' wide at the base with a distinctive pyramidal shape. While the lower branches of the South Ferry trees hug the ground, making them impenetrable, the lower limbs of the Union Chapel holly have been pruned. I recommend walking under it and looking up to fully appreciate the splendid architecture of its branches. Spring holly flowers are white and small and on female trees they develop into the bright red berries which persist through the winter. If you plant a female tree it's advised to plant a male tree nearby. Hollies grow slowly into large, potentially outsized specimens, but according to tree guru Michael Dirr there are 1,000 American holly cultivars, ranging from dwarf to narrow, to fit various landscape needs. As a bonus, the sharp-pointed leaves usually protect American holly from deer browsing.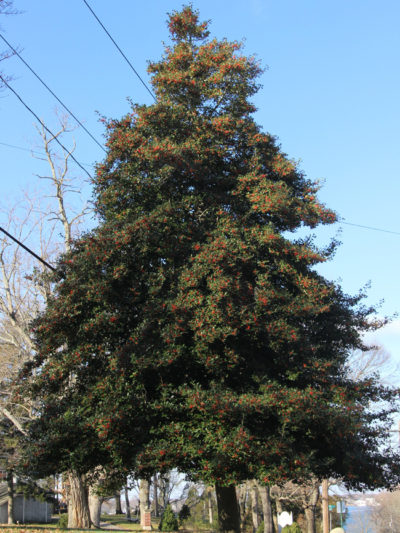 Natural history: Though toxic to humans, the berries are relished by cardinals, mourning doves, northern bobwhite, and turkeys. Native Americans used preserved holly berries as buttons and currency. The wood can be used for furniture and decorative objects.
Cultural history: The tradition of treasuring holly leaves and branches for pagan and Christmas festivities began centuries ago in Europe, most likely with the similar-looking English holly (Ilex aquifolium). The Romans used holly boughs for the Saturnalia, a winter solstice celebration. The Celts wore sprigs of leaves during the solstice to ward off evil spirits. Before Christmas trees became customary in Europe, holly was gathered, with strict guidelines. According to Diana Wells' Lives of the Trees, "It was extremely bad luck to bring holly indoors before Christmas or leave it there after Epiphany. Each leaf left inside would bring its own episode of misfortune." Holly is honored in the Christmas carols, "The Holly and The Ivy" and "Deck the Halls." And Harry Potter fans know that his magic wand was fashioned from holly. As a tree that appears so vibrantly alive in the dead of winter, it is indeed magical.
Photos: Tim Purtell
Related Posts